Bluetooth Headphones
Bluetooth Headphones
So Apple lovers, the iPhone 7 has set the demise of the traditional jack plug headphones in motion. The world's leading tech company has decided that bluetooth headphones are the future and wires are now obsolete and surplus to requirement, Well, who are we to argue? But whether you agree with Apple's sentiments or not, if you want to enjoy the delights of the latest iPhone and still use it to listen to your favourite music, you are going to have to embrace the wireless headphone revolution. Simples. And you can bet that every leading manufacturer in the industry is going to jump on the bandwagon and have bluetooth headphones for sale online, if they haven't already, that is. Let us look at the best of the bunch of those who have already made the leap to bluetooth.
Bose Quiet Comfort 35
Bose is a US company founded in 1964 which is famous for it's home and automobile audio systems, speakers, professional audio equipment and noise cancelling headphones. They have been producing some of the most sought after headphones in the industry for many years. Their current flagship wireless headphone offering is the QC35 (approx $350). Their range of headphones have always featured noise cancellation and the QC35 is no exception. In terms of sound quality, they are probably the best bluetooth headphones to use in conjunction with your brand new iPhone 7 as they are compatible with the new iPhone sound compression. The controls are a little bit fiddly and they are not the best fit for those with smaller heads, but the QC35s are up there amongst the creme de la creme of modern bluetooth headphones.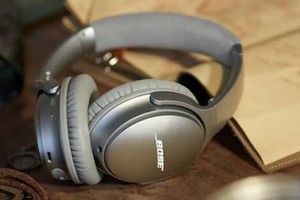 Sennheiser PXC 550
Sennheiser is a German company formed in 1945 which is synonymous with top quality, high fidelity audio products such as their range of headphones. Their top of the range bluetooth headphone set is the Sennheiser PXC 550 (approx $400). They too offer excellent noise cancellation but allow for user intensity control adjustment, unlike the Bose QC35. They are the opposite of the Bose in terms of fit and not suitable for persons with larger heads. But have opted for a touch and swipe control system that proves both novel and effective. They have proved exceptionally well adjusted to Android devices in terms of sound quality as they are compatible with the codec featured in the majority of these devices. They provide a balanced sound with an emphasis on the base, perfect for electronic and dance music lovers.
Either of these wireless headphone sets would be a perfect choice for music lovers of any genre, but it certainly makes sense to consider which smartphone brand you own and intend to continue to use in the long-term. The Bose is $50 less than the Sennheiser, so they do have that saving in their favour.
Where to Buy Your Bluetooth Headphones
So now that you have decided on which set of wireless headphones you are going to opt for, you just need to decide where you are going to purchase them. Many people still prefer to head down to the high street to their local Bose or Sennheiser outlet and enjoy the personal service that a bricks and mortar business has to offer. Many more people have taken to shopping online and having their products delivered to their front door, (some have even taken to buying their groceries online and having those delivered also! I think that's just downright lazy. You've got to have some excuse to leave the house, right?) There are many consumer websites, online classified ads and auction websites that deliver these days, but my personal favourite, especially for electronic and audio products www.used.forsale. It's an awesome service that compare all the best deal online. Everybody loves to compare, right?
If you enjoyed my previous blog post about Tom Tom and SatNav and have been considering buying one or upgrading your existing one, then there are worse places to look and shop than on this website!
Summary
So anyway, that is about all from me for this post. I haven't decided whether or not to upgrade to the iPhone 7 myself yet so I'm all good with my jack plug headphones for now. If you are interested in reading more about Apple's decision to do away with the jack plug you can read about by following this link here: http://www.cnbc.com/2016/09/09/apple-killed-its-headphone-plug-so-a-few-companies-are-helping-dig-its-grave.html
I am away on vacation for a few weeks now but I'll be back soon with another informative blog post to keep all you lovely readers happy and smiling. Take care for now and be careful out there with those noise cancelling bluetooth headphones! (You can't hear cars coming!) Talk soon folks!